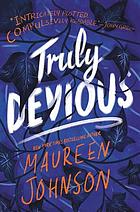 In Truly Devious by Maureen Johnson, true-crime aficionado Stevie Bell is ecstatic to be accepted into the prestigious Vermont boarding school; not just to get away from her overbearing parents, but to solve the cold case of mysterious murders that happened there. An innocent student, Dottie, was killed in the observation room on April 13, 1936 as the killer made their escape with the school founder's wife and daughter. But not before leaving a terrifying riddle about all the ways to murder them...
How to Commemorate:
Listen to a True-Crime Podcast
Write creepy riddles for friends and family
Explain to your friends and family that you are commemorating and you aren't really a psycho killer…the riddles are just for fun.
*Share your photos and celebrations on our Facebook or twitter pages.
Works Cited
Truly Devious